Marty Bieksa Named TNI Partner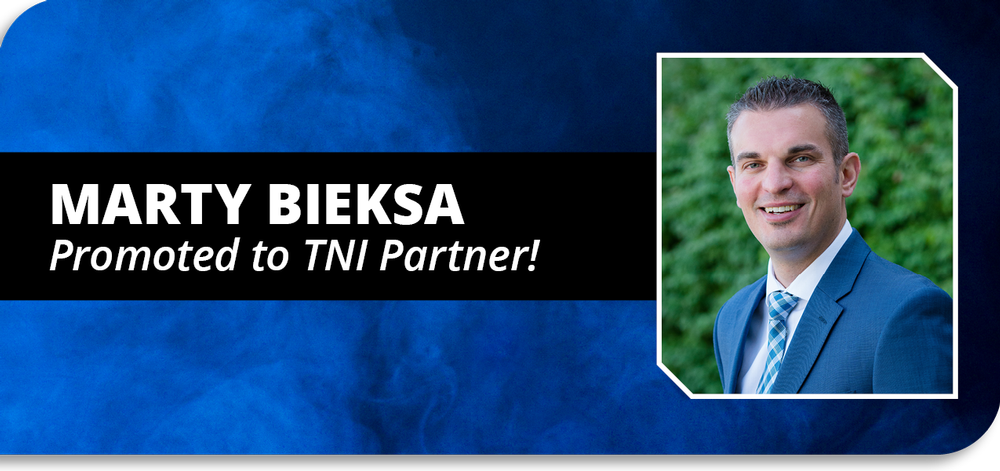 Congratulations to Marty Bieksa on his promotion to TNI Partner!
Marty began his career in this industry in 1999 as a field representative in Ontario and immediately developed an affinity for the business. A natural leader with an infectiously positive attitude, Marty flew through the various stages of management and was ready to incorporate his own agency, Sunrize Enterprize Inc., just one year later. Marty brought Sunrize to TNI in Jan 2001, looking for something better and with him at the helm, Sunrize performed at a consistently high level, broke production records and set the bar for up and coming agency owners. He was named TNI's Owner/Manager of the Year for three consecutive years and over the course of his career, reached Bronze, Silver, Gold and elite Platinum performance statuses - an accomplishment that has only been reached three times in the history of the company.
A promotion to Regional Director was the next step in Marty's career, which allowed him to lend his skills and experience to a much broader audience. Marty's success in guiding future entrepreneurs through the promote-from-within process played a pivotal role in TNI's expansion endeavors, and ultimately led to an invitation to join TNI's executive team in 2009. Excited about the idea of relocating to the Okanagan, he accepted the opportunity and moved to Peachland with his family to pursue a career at head office.
Marty's addition to the corporate team at head office had an immediate and positive effect, and a promotion to Director of Acquisition and Development soon followed. In this role, Marty would continue to mentor field offices, in addition to working closely with the Marketing Department and overseeing the Data Processing and Central Recruiting departments at TNI. As in all of his previous roles, Marty excelled and received his promotion to Vice President of Acquisition and Development in the fall of 2018. This role would allow him to have a more involved hand in corporate direction and future expansion efforts.
During his almost 20 years with TNI, Marty has proven to be a driven, dedicated and respected leader and team member with an unrelenting work ethic. This all really shone through in the last 18 months when Marty led the charge in TNI's large expansion efforts, and then later navigated the agencies through unprecedented times during Covid. The ripple effect from his efforts spans far throughout the business, making him an invaluable member of the TNI family. In recognition of Marty's unwavering loyalty and immeasurable contributions to the TNI Group of Companies, he has now been welcomed into the Partnership group as a TNI Partner, a very merited and fitting promotion. In addition to this, his title has been changed to a more fitting one of VP of Business Development.
Congratulations Marty! We look forward to seeing you continue to succeed and soar to new heights for many years to come!
---
---